Mistress Natalie Rose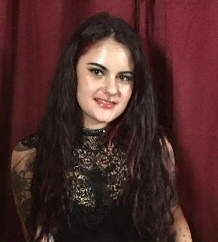 Tall and Slender
Mid Twenties
shoe size 8
Thursdays Only
Sexy sensuous and charming this young Mistress would like to make you helpless
with cuffs chains or ropes, and use you as her sexy toy.
Mistress Natalie-Rose has a gentle side and would love to restrain you blindfolded and naked on her bed
while she slowly strips down to nothing but her silky panties.
Unable to see, but able to smell the subtle perfume of her long soft hair as
it brushes againts your naked skin.
She would tease and torment your body with her soft gentle hands, and
smother you with her beautiful perky breasts and round firm bottom
and have her way with her strap on.
Removing the blindfold she will reveal her luscious, sexy body
that you have been feeling so close to you.
Sometimes she might stuff her panties in your mouth so you cannot protest.
Natalie -Rose enjoys being your Mistress goddess, to be worshipped and adored,
she may order you to kiss and caress her long smooth slender legs,
starting with her sexy little pedicured toes and working your way up to her firm thighs.
But beware if you don't please she could treat you like a doormat to be
trampled under her high heels or bare feet.
or
Flat on your back with Natalie -Rose standing above, with her strong shapely legs spread,
you could be treated to a warm golden shower.
Mistress Natalie-Rose would love to transform you into a slutty girl
with her extensive wardrobe of dress-up clothes.
If you like, she'll put you in the beauty chair and paint your face and do your hair and nails.
Perhaps she'll just dress you in sexy lingerie, and put your legs up in the stirrups
spread wide for an exam.
Maybe suspend you from the ceiling cradled in a sling your legs wide open for her pleasure.
Natalie Rose enjoys role play
She may be your boss, babysitter or nurse or other authority figure using her power over you.
Mistress Natalie Rose has a playful sadistic streak!
Testing limits of pain and humiliation to see just how much you can take,
she might giggle as she punches kicks, squeezes,
and places clamps and weights on your most sensitive parts.
Natalie -Rose likes to whip and flog or just spank and cane you like a naughty little boy,
can you take it? or will she slap your face and spit on you.
Will you be her hero?
Are you the strong man, whose limits of pain and humiliation can be tested?
Will you beg for mercy or beg for more?

PLEASE NOTE:Natalie -Rose does NOT offer SEX, ELECTRICAL PLAY or anything which
involves BLOOD, FECES or LOSS of CONSCIOUSNESS!!
We also do NOT use SOUNDS or CATHETERS
We rarely do sessions with couples but once we know you we MAY be open to you bringing a ladyfriend to play.



PLEASE EXPLORE THE REST OF OUR SITE BEFORE CALLING